A newly announced expansion allows for more eligible individuals to participate in the community health research program In Our DNA SC. It's offered by the Medical University of South Carolina, in collaboration with Helix, a leading population genomics company. The program provides genetic results for three health conditions:
A hereditary form of very high cholesterol called familial hypercholesterolemia that can cause heart disease relatively early in life.
Hereditary breast and ovarian cancer.
Lynch syndrome, the most common cause of hereditary colorectal cancer.
Genomics is the study of all of your genes, including how they interact with each other and your environment. Organizers want to make sure the people who sign up for testing through In Our DNA SC reflect the state's population, which is more than 25% African American.
Marvella Ford, Ph.D., a professor in the College of Medicine and associate director of population sciences and cancer disparities at MUSC Hollings Cancer Center, called the announcement tremendous.
"We have an opportunity now to provide access to genetic testing through In Our DNA SC, to everyone here in the state of South Carolina. We want to make sure that this opportunity is seen and embraced by racially, ethnically and socioeconomically diverse communities. We don't want anyone to be left out of this wonderful opportunity."
Ford said Hollings is already trying to reach more people through its mobile health unit, which travels to rural areas to give mammograms and Pap smears, and its new community health van, which offers vaccines to prevent HPV-related cancers.
In Our DNA SC is an important addition to those efforts. The program, introduced last September, was initially available as a pilot to existing patients in select locations, resulting in an enrollment of 1,800 people. As of last week, it is now open to enroll 100,000 people.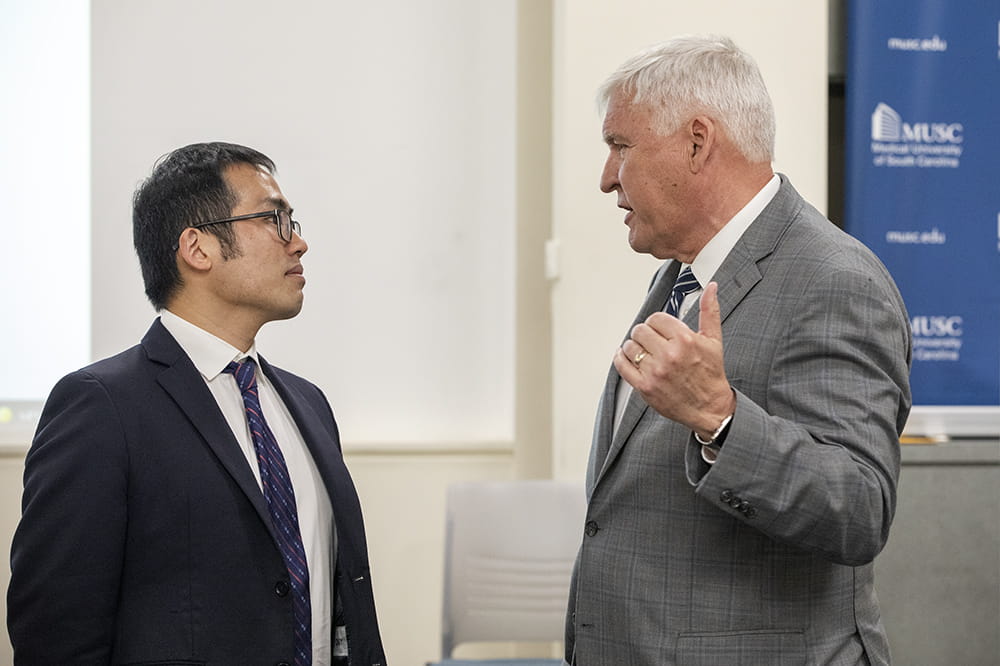 The testing involves saliva samples. There's no charge to participants, and individuals and their doctor will receive a copy of the results. So will researchers trying to answer questions about how DNA affects health, but they won't know the results belong to a specific participant to protect privacy.
MUSC President David Cole, M.D., a cancer surgeon who spoke at the news conference announcing In Our DNA SC's expansion, has seen how empowering genetic information can be for patients. "Embracing precision or personalized medicine is a necessary paradigm shift. It's going to be required to help define new pathways in terms of prevention and care delivery."
MUSC Health CEO Patrick Cawley, M.D., agreed. "I'm excited about this program that will advance the science of medicine and present new options for patients in South Carolina – options like proactive preventive care plans that a patient can monitor for early symptoms and maybe even intervene early," he said.
"It offers options like determining ahead of time medications that a patient may be genetically sensitive to. And that allows us to modify the dose for that patient, or maybe even avoid the medication entirely. It can also help solve diagnostic dilemmas. There's nothing more frustrating to a patient or a family than not knowing what is happening."
James Lu, M.D., Ph.D., CEO and co-founder of Helix, said MUSC is in good company. "We're very focused on enabling large-scale genomics programs with leading health systems across the country who are dedicated to making genomics part of standard of care so that all patients across their health system can access the very best in precision medicine and make sure that all patients can have equal access."
Other institutions working with Helix include the Mayo Clinic, HealthPartners in Minnesota and Renown Health in Nevada. "These are very much likeminded institutions that are thinking about genomics as part of standard of care. And MUSC is obviously a leader in bringing that to all patients," Lu said.