23andMe Holding Co. (NASDAQ: ME) is a biotech company specializing in personal genomics. With nearly 12 million genotyped customers, the company sits on a goldmine of monetizable data. Unlike traditional tech companies, 23andMe's genetic database has practical applications that scale well beyond advertising and surveillance, making it significantly more profitable.
The initial phase of business – which is not always profitable – is focused on building a broad customer base and capturing quality data. In Fiscal Year 2022 (FY22), 23andMe entered its second and most profitable phase of business, shifting its focus on profit by creating business verticals to capitalize on its genetic database, either by selling it or releasing personalized consumer products.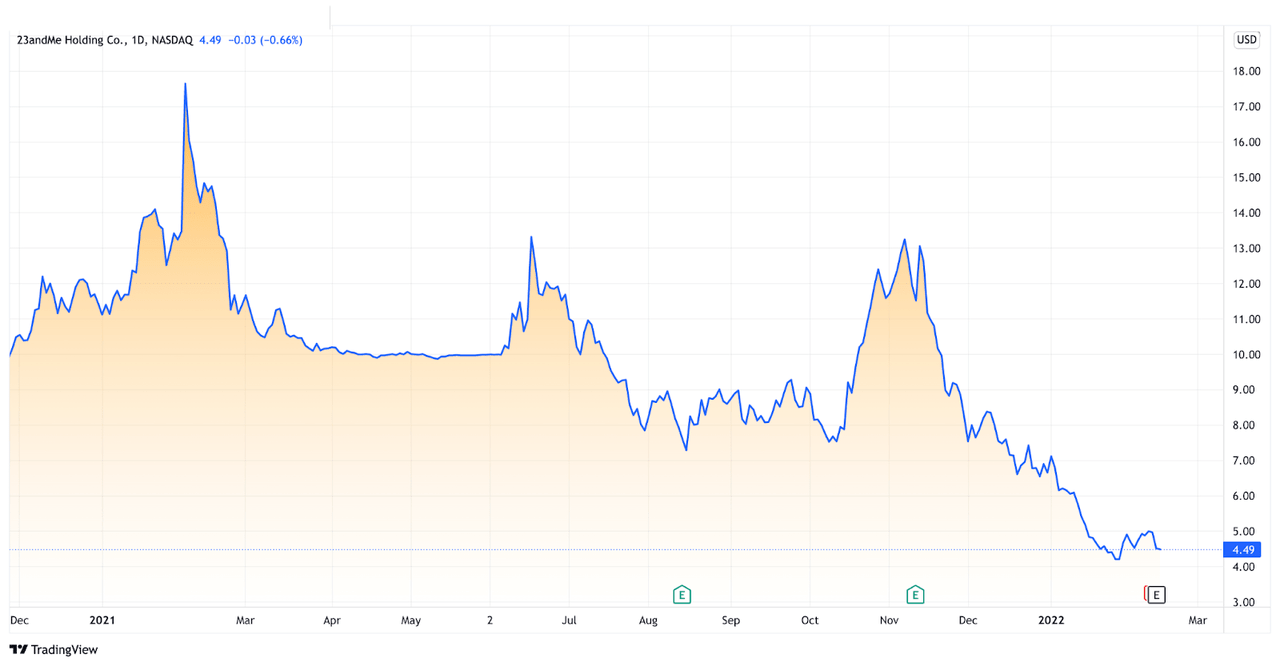 This article explains why 23andMe is a promising long-term buy-and-hold opportunity for investors.
Industry and Competition
While the personalized genetic testing market is saturated, 23andMe stands out from the competition in four main ways.
Firstly, the company has a successful marketing campaign. Across the United States and in the United Kingdom and Canada, 23andMe is a household name. Their Personal Genome Service (PGS) kits are popular Christmas gifts and are often referenced in popular culture.
Secondly, as a financial unicorn, 23andMe is uniquely ambitious, a trait that has attracted the backing of some of the most prominent investors and industry giants in the world. Initial investors included Google (NASDAQ: GOOG), Genentech, and New Enterprise Associates. In 2018, 23andMe partnered with the British pharma giant GlaxoSmithKline (NYSE: GSK). Together, they are developing new cancer drugs based on breakthrough genetic insights. In June 2021, the company merged with Richard Branson's SPAC, VG Acquisition Corp, and transitioned to a publicly-traded corporation.
Third, the company is set to be a market leader in its niche. In the genetic data market, the main competition, AncestryDNA, has a comparable database of genetic information. AncestryDNA focuses on genealogy, whereas 23andMe has revenue pipelines in the healthcare and pharmaceutical industries. AncestryDNA is also limited in its scope as it does not test mtDNA and yDNA, which 23andMe does.
Fourthly, by successfully navigating its oppressive regulatory environment and accumulating an exclusive genetic database, 23andMe has uncontested opportunities to expand and grow. It is the first biotech company with FDA approval to provide healthcare services based on genetic data. It also owns the world's largest genetic database, including both phenotypic and genotypic data.
Covid-19 Impact
In FY21, there was a drop in revenue due to the Covid-19 lockdowns, which forced millions of consumers to live off savings and slowed down the consumption of non-essential services. Revenue picked up in FY22, mainly owing to increased sales, subscription revenue, and telehealth services.
In November 2021, fearing another period of volatility, retail investors dumped several high-growth stocks, including 23andMe. As a result, its share price is at its lowest since IPO.
Products and Opportunities
Currently, 23andMe offers one primary product and three services. Consumers who have submitted their genetic data can buy an ancestry test, a health report, or both. In FY22, the sale of PGS kits generated over 80% of the company's revenue. It is a loss-leading product, which means that the company sells it at a loss to capture a higher market share and grow its genetic database. The sale of PGS kits is highly seasonal, often spiking during the holiday months. 23andMe launched "23andMe+", a subscription service that regularly updates customers with new, personalized medical and ancestral insights based on ongoing research. The subscription also allows customers to filter and find thousands of genotyped relatives.
The company is also expanding its genealogical database by researching underrepresented countries, mainly in Africa and Asia. The National Institute of Health (NIH), in a display of confidence in 23andMe, provided a grant for the company's "African Genetics Program" to genotype a higher share of the African population. Similarly, the "Populations Collaboration Program" facilitates data-sharing and formal collaboration between 23andMe and researchers. These programs will allow the company to expand into foreign markets, as the demand for nuanced ancestral insights in Africa and Asia is great and untapped.
In the third financial quarter of FY22 (Q3-22), 23andMe initiated Phase I trials for its wholly-owned pharmaceutical drug that suppresses the CD96 gene, potentially treating and curing an array of fatal and debilitating diseases. 23andMe utilizes artificial intelligence (AI) and machine learning (ML) to extract actionable information from its massive cache of genetic data. In FY22, the company discovered a gene that plays a role in tumor growth and autoimmune diseases.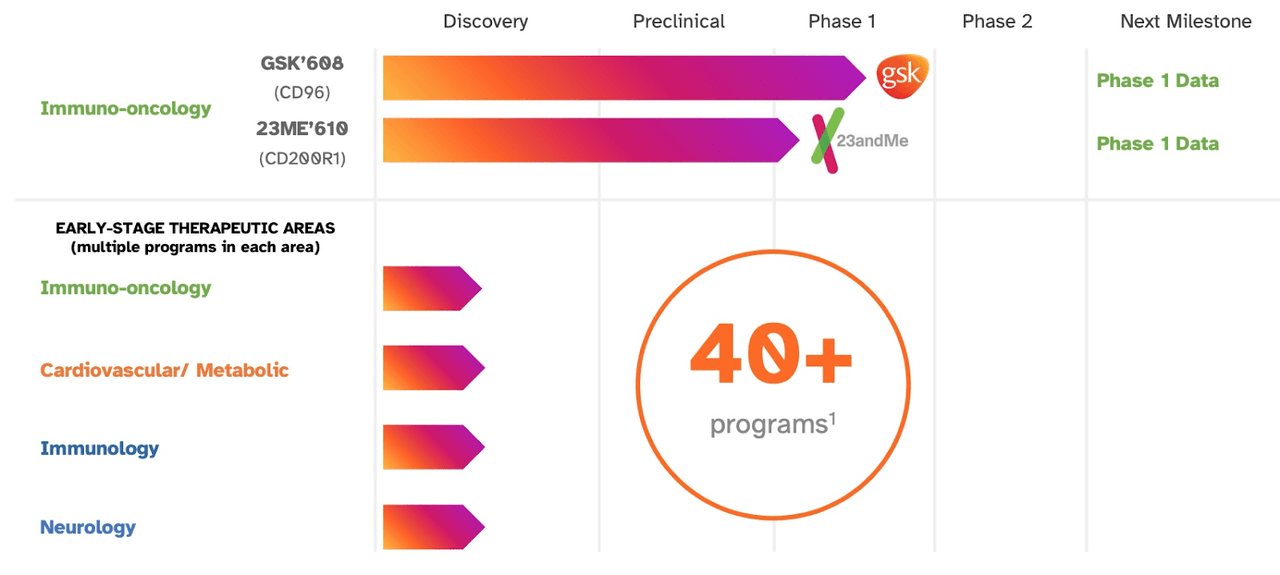 With fresh insights derived from their genetic database, 23andMe, in partnership with GlaxoSmithKline, has over 40 programs to research and design new drugs for cardiovascular, autoimmune, oncological, and neurological conditions. Initially, GlaxoSmithKline invested $300 million in the company and, as an indicator of bullish sentiment, recently invested $50 million more.
Profits from the new drugs produced by the joint partners are split 50-50, and 23andMe earns worldwide royalties on drug sales. This indicates sound deal-making as it opens up long-term revenue streams with the added benefit of guidance from a pharma insider.
Breaking into the lucrative mental health industry, 23andMe has collaborated with Danish pharmaceutical company Lundbeck (OTC:HLUKF) and the Milken Institute to determine the genetic roots of psychiatric disorders and discover new drugs to treat and cure them. With its database of genetic data, the company has located 17 genes that are potentially associated with depression. Despite the wide availability of SSRIs, there are at least 21 million Americans with depression, so the revenue potential for effective psychiatric drugs is massive.
Reflecting the company's foray into primary healthcare, 23andMe acquired two companies, CureTogether, a treatment rating website with an extensive database of medical conditions, and Lemonaid Health, a telehealth platform. The end goal is to create an industry-first primary healthcare system that provides medical professionals with the necessary tools to make prevention-based and genetically-informed decisions.
In addition to genealogy, pharmaceuticals, and primary healthcare, 23andMe can use its valuable database to expand into health insurance, targeted advertising, and law enforcement, among many other verticals. On at least one occasion, the company was used to identify the remains of a crime victim.
23andMe already provides customers with information about their genetically determined taste and color preferences. This indicates that the company is geared to enter the advertising industry and usher in a new era of highly personalized business.
Financial Analysis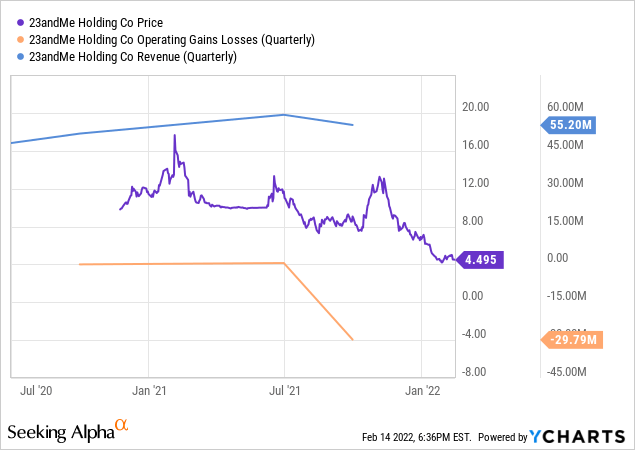 In the first three financial quarters FY22, marking the period between June and December 2021, the company reported consistent revenue growth and increased investments in research and development (R&D) and new industry verticals. In FY22, 23andMe expects revenue of around $255 million and a net loss amounting to $220 million, a year-on-year increase of at least $35 million, or 16%.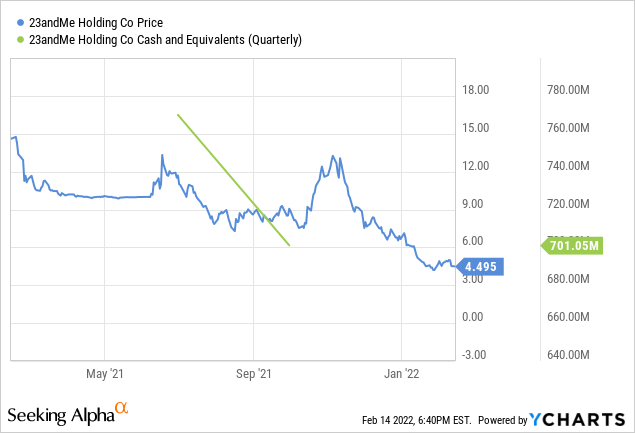 Two things can explain the reported losses. Firstly, the PGS kit, a primary source of revenue, is a loss leader. Secondly, the sharp uptick in losses is due to increased spending and expensive acquisitions. In Q1, they generated an abundance of cash amounting to around $700 million. Making the most of this capital injection, the company increased its budget on therapeutic R&D by $12 million and its spending on consumer and research services by almost $5 million, altogether allocating close to $200 million for R&D. 23andMe also purchased two medical services companies to avoid building its healthcare platform from scratch.
Considering the size of its cash and equivalents, the company has been relatively conservative with its spending. On average, it costs several billion dollars over 12 years to develop and approve a drug. 23andMe intends to streamline this process by genetically targeting the root causes of various diseases, expediting the process of clinical testing, and reducing subsequent costs.
In the first half of the fiscal year, ending September 2021, the company spent $29 million on advertising and marketing, a YOY increase of 34%, signaling its plan to capture a higher market share and grow its genetic database. They also saw an expense of over $20 million on stock-based compensation during the same period. The company is expecting this expense to reach close to $50 million by year-end. It is a significant contributing factor to the high adjusted EBITDA losses, projected to reach $150 million in FY22, almost double the EBITDA losses of FY21.
As various endeavors actualize their potential, revenue streams will multiply and snowball. In the meantime, 23andMe will continue its investment strategy in verticals and expand aggressively by focusing on consolidating customer data, developing pharmaceuticals, and building its primary care network.
Valuation and Risks
By the nature of the industry, nearly all biotech companies have a price-to-book ratio greater than one due to the outstanding capital needed to develop and bring their IP to market through costly pre-clinical and clinical trials. With that being said, an indication of a lower P/B ratio than the industry average can demonstrate that biotech companies have more than enough capital to cover unexpected trial costs and thus have decreased risk.
23andMe has been experiencing a continued bearish sentiment on its stock since its IPO. From a high of $16 in February last year, the price has fallen over 72% to under $5 a share. A closer look at 23andMe's price-to-book ratio shows that they have a ratio of 2.09, in comparison to the industry average of 8.17. While such a drastic difference in P/B ratio in comparison to the rest of the industry may at first appear to be attributed to the significant decline in share price over the last few quarters, investors cannot ignore the fact that such a decline has brought them far below the industry average and into highly undervalued territory. When further compared to some of its close competitors such as Natera, Inc. (NASDAQ:NTRA), the other major innovator in consumer DNA testing, the difference is even more drastic.
In the last reported quarter, Natera had a P/B ratio of 35.22, a 145% difference when compared to the same quarter's ratio for 23andMe. With all of these factors taken into consideration, it is easy to see how the current share price decline provides a significant opportunity to build a long position in 23andMe, especially when considering the increased relative book value that should significantly reduce the risks in their future capital-intensive therapeutic development pipeline.
The most significant risks that 23andMe faces are from future regulation and laws regarding genetic data privacy. While the company anticipates regulatory pushback in the near future, it is unclear in exactly what shape this will take place.
An example of how regulatory restrictions have affected this company can be seen in its past. Between 2013 and 2015, the FDA restricted the company from providing medical insights, a large part of its revenue and identity. As a biotech company, 23andMe is not governed by HIPAA laws and, therefore, is not qualified to provide healthcare services. Since then, the company has engaged in dialogues with the FDA to determine best operating practices to address this issue.
Going forward, it seems this major risk is less likely to pose an issue. The company has set several precedents in the genomics industry by winning multiple FDA authorizations for its genetic-risk testing and pharmaceutical products. As their agreement currently stands, 23andMe gains FDA authorizations on a case-by-case basis.
Furthermore, 23andMe has been expanding to international markets with fewer regulations, as seen through its Global Genetics Project in Africa and Asia. In the future, as its marketing and database grow, the company can expand into more lucrative foreign markets.
Future Outlook and Final Thoughts
FY21-22 financial reports reflect the early phases of the company's journey to profitability. This early-stage necessarily involves some losses and heavy spending. Given the benefit of commercial investors, FDA authorizations, and a shareholder-facing business strategy, it's a matter of time before the company's various investments bear fruit.
If the recent expansion into pharmaceuticals and telehealth continues, which seems likely considering the amount of cash-runway and industry-backing available, the company's products and services will no longer be considered non-essential. Its revenue streams will be anchored by subscription services, life-saving drugs, and vital primary healthcare infrastructure. Investors should consider entering a long-term bullish position – the potential gains for this innovator are worth the wait.